Affron® Saffron Extract 60 Capsules
Premium Organic Saffron Extract. >3.5% Lepticrosalides®
A natural extract grown in Spain




>3.5% Leptricrosalides® - contains crocins, crocetin and safranal.

Authenticity verified by DNA and TLC testing

Supports mood and well-being

†

Supports cognitive function†

Improves sleep†

---

What is affron® Saffron Extract?
affron® is a unique standardized Saffron Extract (Crocus sativus L.) that is entirely cultivated and produced in Spain. Spanish saffron is regarded as some of the highest quality in the world, and we'll explain why.
Saffron is renowned for being one of the most expensive spices and commodities in the world. Pharmactive cultivates and produces organic, highly purified and standardized saffron extracts in Spain, helping to bring this amazing botanical to more people around the world while maintaining the very highest standards at affordable prices.
affron® is a next-generation saffron extract standardized to Lepticrosalides® which are analyzed by HPLC (High-Performance Liquid Chromatography) for the very highest standard of purity assessment.
affron® has clinical studies supporting its dosage/effectiveness, safety, and multiple benefits. Let's get into what sets this saffron extract apart from the traditional extracts on the market.

What are the benefits of affron® Saffron Extract?
affron® is processed by a proprietary extraction process in Madrid, Spain. It is the first saffron extract on the market to have a clinical trial demonstrating mood improvement.

To date, three clinical studies have been performed using affron® saffron extract in humans, demonstrating it's positive benefits for mood, stress/anxiety, sleep, cognition, and vitality. There are additional trials underway.
What is the composition of affron®'s active compounds and isomers?
Leptricosalides® are a patented, novel combination of active compounds found in affron®. Unlike the majority of saffron products on the market, which are solely standardized for safranal, affron® contains a much wider range of actives.
In one study, samples of affron® that were analyzed by HPLC showed a minimum content of 0.03% of safranal content, over 3.99% total crocin content on average, and a total phenolic compound content of 1.41%.
The analysis identified six crocin isomers, together with picrocrocin, safranal and one kaempferol diglucoside. This composition is collectively referred to as Lepticrosalides®, and it is unique to affron®.
Three Clinical Studies Supporting affron®
affron® improves mood and sleep quality in healthy adults over 4 weeks in a double-blind, parallel, randomized, placebo-controlled clinical trial:¹
This is the first clinical study performed with a commercial saffron extract in healthy people. The participants, self-reporting low mood but not diagnosed with depression, were included and randomly assigned to groups receiving the saffron extract (affron®: 22 or 28 mg/day), or placebo for 4 weeks. affron® significantly improves mood without side effects in a one-month treatment:
Tension, depression, anger, confusion and fatigue subscales analyzed according to the Profile of Mood States Test (POMS) significantly diminished in the 28 mg/day treated group, whereas vigor-vitality subscale increased within the same group.
The 28 mg/day treated group during one month showed a significant decrease in anxiety, stress, and depression according to the Depression, Anxiety and Stress Scale (DASS).
The Pittsburgh Sleep Quality Index (PSQI) was significantly improved in the 28 mg/day treated compared to the placebo group.
The mood improvement and anxiolytic effects of affron® were consistent in both sexes and were achieved without any adverse effects on any performance or safety.
While the studied population self-reported low mood but were not diagnosed with depression, the results bring new potential knowledge to the clinical literature, showing that this newly standardized saffron extract shows remarkably consistent positive effects across the POMS-TMD, PANAS and DASS scales.
Furthermore, the dosing schedule demonstrated a clear dose-dependent relationship across all scales, making this study the first to identify an empirically justified dosage scheme. affron® has also shown to improve sleep quality in healthy adults over 4 weeks in a double-blind, parallel, randomized, placebo-controlled clinical trial. affron® improved mood in healthy participants with low mood (Figure 1).

Another randomized, double-blinded, placebo-controlled study demonstrated the efficacy of curcumin and a saffron/curcumin combination for the treatment of major depression.²
123 individuals with major depressive disorder were allocated to one of four treatment conditions, comprising placebo, low-dose curcumin extract (250mg b.i.d.), high-dose curcumin extract (500mg b.i.d.), or combined low-dose curcumin extract plus saffron (15mg b.i.d.) for 12 weeks (Table 1).
The study concluded that treatments consisting of varying doses of curcumin and curcumin combined with saffron were effective in reducing depressive and anxiolytic symptoms in people with major depressive disorder.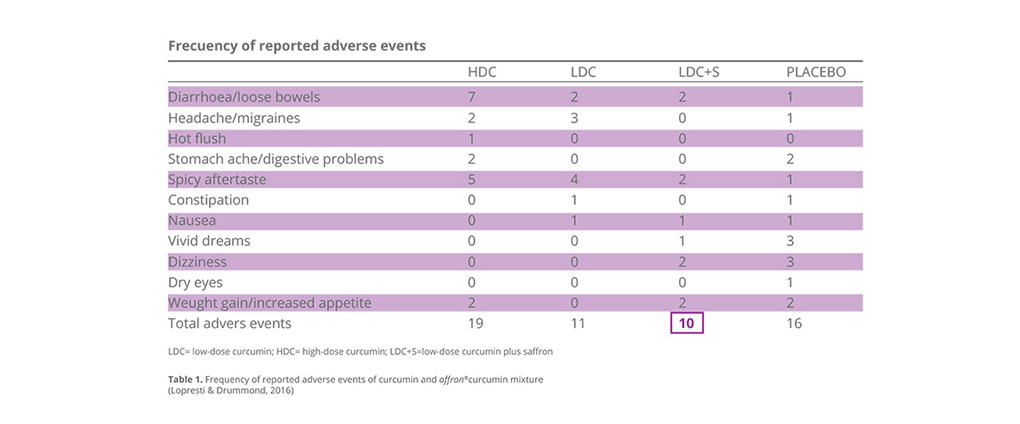 The results demonstrate a strong safety profile of affron® and its benefits in combination with other natural extracts, namely curcumin. The side-effects of curcumin were actualyl reduced when it was combined with affron®.
Unlike regular saffron extracts, affron® has been shown to be safe in doses as high as 5 grams. With a daily dose of 28mg, this makes affron® an incredible safe saffron extract.
affron® is the Standard in Saffron Purity and Safety
In a microbiological analysis of saffron extracts from various countries around the world, Spanish saffron is the clear and only choice to make when choosing a quality saffron extract. Spanish saffron contains the lowest amounts of microbiological contaminants amongst saffron extracts (Figure 2).
Pharmactive controls the main technological parameters involved in the quality of affron® throughout production in their factory in Spain.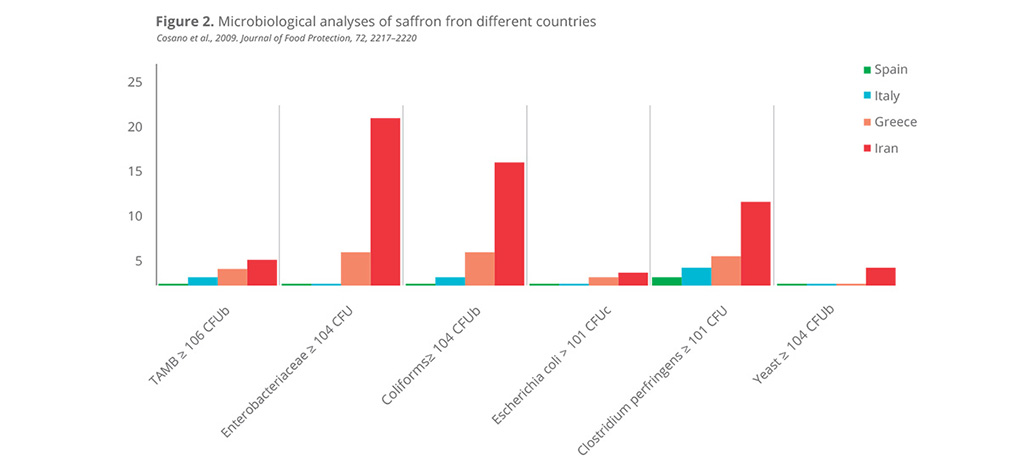 Lepticrosalides®, The Primary Bioactive Components in affron®
Lepticrosalides® have shown to improve mood in healthy people who show stress, anxiety or depression in a clinical study reviewed and approved by the Ethics Committee of Clinical Research of Queensland in Australia.
Furthermore, Lepticrosalides® are the primary components responsible for the organoleptic properties of saffron, chiefly the distinct aroma and vibrant color. The minimum amount of these bioactive compounds to show a positive effect on mood must be more than 35 mg of Lepticrosalides® per gram of affron® (>3.5%) as analyzed by high-performance liquid chromatography (HPLC).

Where to Buy affron® Saffron Extract?
You can now buy affron® saffron capsules (vegan) from Health Optimera with worldwide shipping! affron® saffron capsules are available in 60 capsule bottles at 15mg each.
For best results, take one capsule of affron® in the morning and another in the evening. Each bottle lasts one month at two capsules per day.
References:
† This statement has not been evaluated by the FDA. This product is not intended to diagnose, treat, cure, or prevent any disease.